Commissioning & Qualification (IQ OQ PQ)
of Equipment
Learn how to develop test protocols for an equipment system in a GMP regulated environment.
WSQ Accredited as (Develop a Validation Protocol for
Equipment PI-PH-308E-1)

Enjoy flexible Online Delivery

Get an Industry Recognised Qualification

Application Deadline: Wednesday 4th November
Commissioning & Qualification (IQ OQ PQ) of Equipment
Learn how to develop test protocols for an equipment system in a GMP regulated environment.
Take our WSQ Accredited Course

Enjoy flexible Online Delivery

Get an Industry Recognised Qualification

Application Deadline: Wednesday 4th November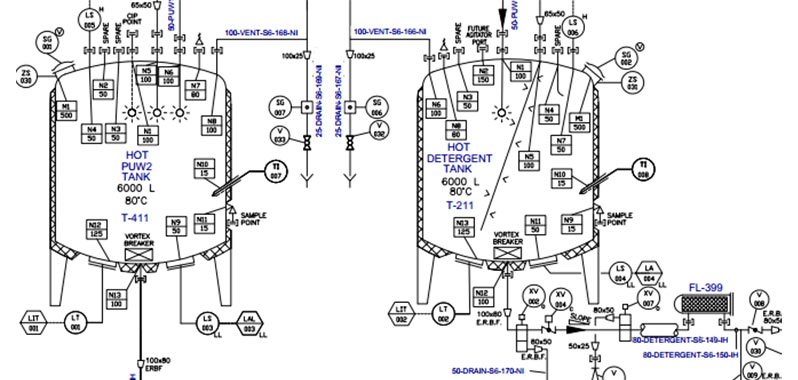 Programme Highlights
Commissioning and qualification of equipment and systems is a critical process in making sure safe medicines are being manufactured. In addition, this module is one of the first steps you'd take to specialise in Validation – where there is currently an acute shortage trained validation professionals.
Perfect For People with Engineering, Science, Manufacturing, IT or Quality Background
Perfect for anyone with a manufacturing, science, engineering, quality, maintenance, aviation/semiconductor, food production, construction, military or logistics background.
Build Your Qualifications Further after graduating
Our Commissioning and Qualification Course forms a potential pathway to become a full Validation Professional with subsequent courses. Validation is currently an area where there is huge demand for professionals.
Portfolio Building – Give Yourself a Competitive Edge
By the end of the course you will be able to write an IQ, OQ Protocol. Compile a portfolio based on your final assignment to demonstrate to future employers your knowledge in the field.
Learn from Experts at Your Own Pace
The module is written and taught by our Validation expert – Dr. Brady – and you can complete it from the comfort of your own home in a 10-week period.
How does Studying Online Work?
Each week, you'll complete a series of videos, quizzes, interactive activities and projects through our online platform, available to access 24/7.
Online courses can start off great, but staying motivated can be a challenge. So, you'll get regular feedback reports (and emails or phone calls if you fall behind!) to keep you on track.
Because it's online, there are no long commutes, traffic jams or crowded trains to deal with on the way to class. Study at home after the kids have gone to bed.
Your working schedules are unpredictable so we offer flexible delivery. Slow down, speed up or pause the delivery of the course.
Hear From People Who've Taken This Course

"This course was very informative and could greatly enhance our knowledge and understanding on Pharma Manufacturing practices (GMP, GDP, etc.). The training experience was great and details were clear. Keep it up, guys!"

"Once you tune in your mind set to studying online, it's a great way to learn as you manage the pace yourself."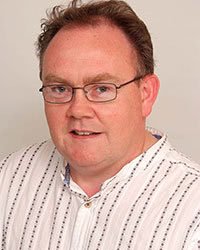 Dr. Joe Brady
Lecturer, Dublin Institute of Technology
Dr. Joe Brady is an assistant lecturer with the Dublin Institute of Technology (DIT), in the School of Chemical and Pharmaceutical Sciences. Joe is a certified trainer, and highly experienced in competency based training. He designs and prepares educational modules and full academic courses ranging from MSc, MEngSc. BSc, to Certificate level, for a range of academic institution.
He is also a supervisor for MSc/MEngSc and PhD theses. Joe has over seventeen years project experience in the pharmaceutical, biopharmaceutical and medical device industries in Ireland, Singapore, China, The Netherlands, France and the USA.
Your 10-Week Class Schedule
Your Class Director will check your study logs and only will release subsequent week's materials to you if you have been logging in for more than 10 hours per week.
And he or she will proactively follow up with you to keep you on track.
Week 1 – Interpreting P&ID's
Design Documents Required for the Generation of Installation and Functional Tests

User specification for a Reactor

Equipment Configuration and Process Sequence for a Reactor

Generation of Piping and Instrumentation Diagrams (P&ID)

URS for Hot Detergent and Hot PUW Generation and Distribution Skid System

Equipment List

Instrument List

Inline Components List
Week 2 – System Impact Assessment & Traceability Matrix
Protocol Content Part 1: Objective, System Description and Scope

System Impact Assessment

cGMP Testing Principles

Valves

Piping Line List

Testing Traceability Matrix for Equipment Systems
Week 3 – Installation Tests & Equipment Verification
Protocol Content – Part 2: Responsibilities and Installation Testing

Minimum Elements of a Test Script

Good Documentation and Records Management

Component Level Impact Assessment – Part-1 Product Contact Components

Installation Test P&ID Walk-Down

Installation Test and Equipment Verification

Pumps
Week 4 – Piping Isometrics & Checksheets
Piping Components

Piping Isometrics 2D P&ID and 3D CAD Images

Piping Isometrics and 3D CAD

Piping Material Traceability

Piping Tests

Heat Exchangers

Instrumentation Identification

Installation Test Piping Verification GMP-Checklist
Week 5 – Instrument Loops & Checksheets
Process Control

P&ID Instrument Identification

Input Output (1/O) List

Process Control Hardware Panels

Loop Signal Verification

Installation Test Instrument Verification

Proportional-Integral-Derivative Controller (PID Controller)
Week 6 – URS & Functional Testing
Protocol Content – Part-3 Operational/Functional Testing

Component Level Impact Assessment – Part-2

Operational Testing Primary Functions GMP Checksheet

Testing Traceability Matrix for Equipment System Second Pass

User Requirement Specifications (URS)
Week 7 – Assembling the Validation Protocol
Protocol Content – Part – 4: General Attachments

Protocol General Attachments

General Contents of a Validation Master Plan

Protocol Deviation Procedure

Change Control Procedure

Protocol Testing Template

Testing Traceability Matrix for Equipment System
Week 8 – Validation Protocol Final Review
Conclude List of Installation Tests

Conclude List of Functional Tests

Final Protocol Template Review
Competency Based Assessment
The end of module assessment is a competency based open book exam where you will need to answer 8 essay style questions. Each essay will require about half a page to one page to answer. Your answer will be assessed as either competent or not yet competent. In addition, you will also have a 15 minute oral interview with our Subject Matter Experts.
Complete the Following Activities and Workshops
You will become familiar with a range of documents used in projects including piping and instrumentation diagrams (P&ID), equipment specifications, instrument specifications, line lists, piping isometrics, 3D layouts, electrical and hardware control – panel diagrams, and wiring and loop diagrams. These design documents are used to generate IQ OQ PQ commissioning and qualification protocols.
You will also become familiar with:
User Requirement Specifications (URS)

cGMP impact-assessments

cGMP design reviews

Design Qualification (DQ) reports

Specification and testing traceability matrices

Typical testing IQ OQ PQ protocol templates
Accredited under the WSQ Program
This module is accredited under the WSQ programme as (Develop a Validation Protocol for Equipment PI-PH-308E-1) subject to the following criteria. Passing a written and oral Exam on the materials.
Show Off Your New Skills:

Get a Certificate

of Completion
Once the course is over, complete your competency based assessment and the end of module interview webinar to get your WSQ Certificate.
Add it to your resume, your LinkedIn profile or just get that well-earned raise you've been waiting for.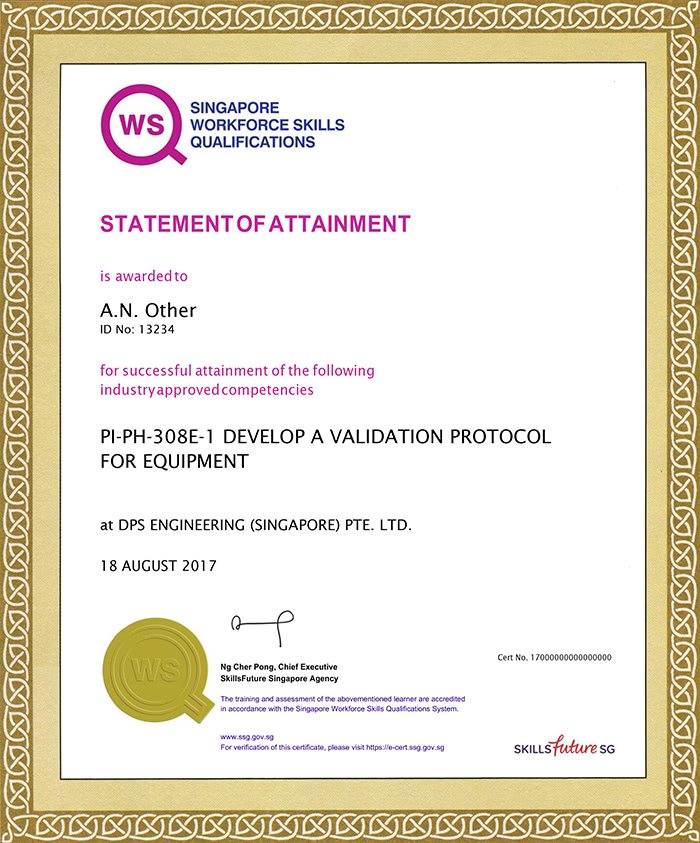 Try Us Risk FREE for 7 Days 100% Money Back Guarantee.
Start Your Application
Click below to start your application.
Contact Us
Frequently Asked Questions
This is an advanced and high level course and is not comparable to a two day course both in the range of content covered and the detail it goes into. Furthermore, spreading the learning over 10 weeks rather than trying to cramp everything into a three day or one week event means that you will dramatically improve your retention of the materials.