Industry Organisations
If you're looking to work in Singapore's pharmaceutical or medical device industry, there are some organisations that you should definitely be familiar with. Even if it never comes up at interview, knowledge of these types of organisations will give you a more well-rounded understanding of the sector and its key players.
The World Health Organization (WHO) is a specialized agency of the United Nations (UN) that is concerned with international public health. It was established on 7 April 1948, with its headquarters in Geneva, Switzerland. WHO is a member of the United Nations Development Group.
The Food and Drug Administration (FDA or USFDA) is an agency of the United States Department of Health and Human Services and is responsible for protecting and promoting public health through the regulation and supervision of food safety, tobacco products, dietary supplements, prescription and over-the-counter pharmaceutical drugs (medications), vaccines, biopharmaceuticals, blood transfusions, medical devices, electromagnetic radiation,cosmetics, emitting devices (ERED), and veterinary products.
The European Medicines Agency (EMA) is the decentralised agency of the European Union (EU), set up in 1995. They are tasked with scientifically evaluating, supervising and monitoring the safety of pharmaceutical products produced for use within the EU. For companies to gain a marketing license within the EU, the EMA must first scientifically review the application – a marketing license is essential to a company wanting to market their product in Europe. The EMA also acts as a central point for pharmacovigilance, the safety monitoring of medicines, utilising the network of European monitoring agencies and tracking the safety of medicinal products. The EMA can also work in direct response to concerns raised about a product, to reevaluate the safety and risk-benefit balance of its use.
The HSA is Singapore's own regulatory agency. Formed in 2001 as a statutory board of the Singapore Ministry of Health, its goal is to protect and advanced national health and safety. The HSA is responsible for regulating health products to ensure safety, quality and efficacy. This includes both pre- and post-market checks and regulatory surveillance. It also has further responsibilities around forensic science and medicine, and the national blood service of Singapore. Some of HSA's professional groups (including Drug Quality Assurance) have been recognised as WHO Collaborating Centers.
Industry Bodies
Singapore Association of Pharmaceutical Industries (SAPI)
SAPI was initially founded as the Pharmaceutical Trade Association (PTA) in 1966. As the industry changed and developed, the organisation did too. Today's SAPI now serves as an industry body for manufacturers, trading houses, pharmacies etc. It works to promote the issues of the industry at a legislative and government level and promote ethical practices throughout the industry.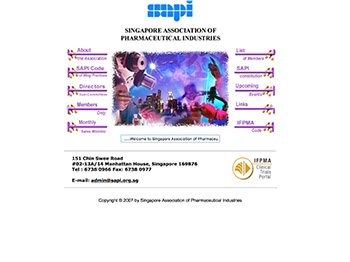 AMDI serves a similar purpose as SAPI, but for the medical device and medical equipment industry of Singapore. They work to represent their members in discussions with regulators and government bodies. They also provide a platform for industry-level networking as well as striving to "promote and enhance industry standards".
APACMed was launched in 2015 to promote the medical technology industry across the Asia Pacific Region. The association aims to improve the standard of patient care by bringing together stakeholders and promoting partnerships. Members of the association include regulators, governments, clinicians and healthcare providers.
The International Society for Pharmaceutical Engineering (ISPE) is a not-for-profit industry trade group for pharmaceutical science and manufacturing professionals. It has 25,000 members in more than 90 countries. The ISPE provides pharmaceutical industry professionals with opportunities to develop technical knowledge, exchange practical experience, and collaborate with global regulatory agencies and industry leaders.
The Parenteral Drug Association (PDA) is an international non-profit industry trade group for pharmaceutical and biopharmaceutical manufacturers. Founded in 1946 as the Parenteral Drug Association by a small group of pharmaceutical manufacturers who recognized the need for an organization to disseminate technical information within the industry, it now has more than 11,000 members worldwide. Today, coordinated through its headquarters and its Training & Research Institute in Bethesda, Maryland, PDA volunteers worldwide promote the exchange of rapidly evolving information on the latest technology and regulations concerning high-quality pharmaceutical production.
The IES was established in 1966 and serves to "advance and promote the science, art and profession of engineering for the well-being of mankind". As well as promoting the field of engineering, the institution provides opportunities for continuing professional development and representation for engineers both nationally and internationally.