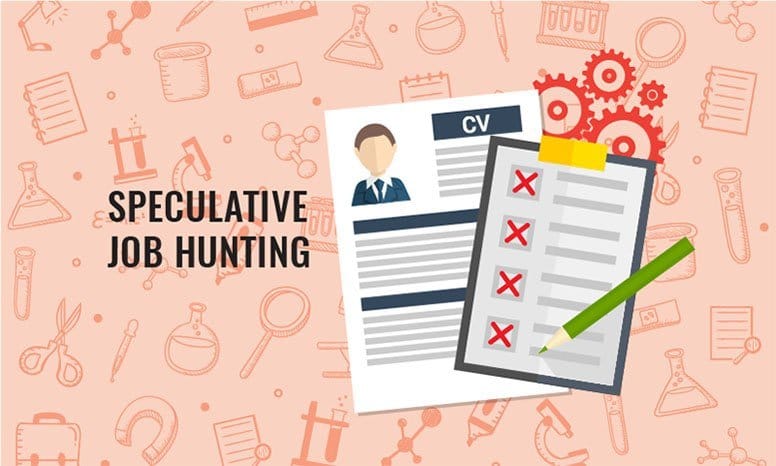 Speculative Job Hunting
The work of a job hunter is never done. Historically, job hunting has been a very reactive process – you see a job posted on a job board or with a recruitment agency and you apply.
The truth is, successful job hunting today is a proactive process. Many job openings never make it as far as a job board or a recruitment agency.
Mastering this proactive approach to job hunting with speculative applications could vastly improve your chances of scooping a great job quickly.
But this isn't just sending out your CV to every company you can think of, this process is a targeted strategy that allows you to use your time productively.
So how exactly do you go about using speculative applications as part of your job hunt?
Where to Target Speculative Applications
Identify where jobs are currently available (or will be soon)
Use your network – talk to people about the sort of jobs you're looking for. Ask your contacts to let you know if they hear of people who are moving on or if there are recruitment events happening locally.

Attend career fairs to discuss open vacancies but also to make connections with people who may be recruiting in the future.
Identify where jobs will be available in the future
Monitor news sites for stories of companies expanding or moving into the area. There are several aggregator sites such as 'Google news' where you can search various news outlets at one time and set up news alerts.

With an alert in place, you'll receive emails when news stories matching your keywords are published. News stories of company expansions, new facility developments or increasing productivity are all things that will highlight jobs in the future.
Identify key people within expanding companies and reach out to them
Once you've highlighted companies that are in the process of expanding, or will be soon, identify key people within these organisations and begin networking with them using sites such as LinkedIn. This can help you develop relationships, find out where to monitor for updates and increase your profile within these companies.
Identify companies that have hired people like you before
If you know there is a company that hired someone with a skill set similar to yours in the past, they should definitely be on your list. The only way to know this is through networking (or possibly internet research) so make sure it's something you add to your list of queries for networking meetings when you arrange them.
How to Make a Speculative Application
What are the key things to remember when actually making a speculative application? Here are 6 points to consider:
Find a named individual to address it to within the company – this is much more likely to get attention than a generically addressed envelope. Use the company website, LinkedIn or any network contacts you have to get this information.
Use your network – having someone pass on your CV is much more effective than an unsolicited email or letter in the post. If you know someone within the company, ask if they'd be willing to hand deliver your CV to the relevant person.
It still needs to be tailored – research the company via their website and their social media accounts to identify key priorities, values and strategies. Highlight relevant interests and experience you have that matches against these within your speculative application. Show them that you're specifically looking for a job with them.
Look for previous job adverts – you'll often be able to find old job adverts by searching a job title and the company name. This will give you a good idea of what they identify as the key skills and experience when hiring for that role. Use that language to describe your previous experience and skills where possible.
Take care with the tone – the goal with a speculative application is still to show what you can bring to a company, what you can do to help them meet their goals and solve their problems. The tone should never be "I'm a great candidate, you'd be lucky to have me", and you should also work hard to avoid "I really need a job, please give me a job". Keep the focus on what can you offer them as a candidate and how will employing you would be good for them and for the business.
Follow up with your application – as with any application, follow up is crucial. Being careful not to make a nuisance of yourself, politely make contact with the person you sent it to if you don't hear back from your initial application.

How to Integrate Speculative Applications Into Your Job Hunt
To even have a chance at being an effective job hunting strategy, you have to integrate speculative applications into your job hunt. Here's a few tips on how:
It shouldn't be your only strategy – your primary source of applications should always be applying to jobs that are currently available (that you might find on a jobs board or through a recruiter). If you're looking at 5 applications per week, as we recommend, only 1 or 2 should be speculative applications.
Build a routine – make speculative applications part of your weekly job hunting routine. Build time for it into your week and keep your rate of application steady.
Make a list – try making out a list of companies you'd like to target speculatively at the start of your job hunt. Then all you have to do is work your way down the list as your job hunt progresses. Of course, if current events or a networking contact suggest, move around the order of companies on the list.
Keep a track – many companies will keep a speculative application on file for a set period of time if a suitable role isn't immediately available. In theory, this should mean that you'll be contacted if a role that you might be a good fit for became available within that time. If you're told this, make a note of how long your application is on file for. Just at the passing of that date, you should submit another speculative application if you're still looking for a job.
These tactics combined give you a great proactive job hunt.
This is an extremely positive way to approach your job hunt and gives you an ongoing focus, keeping a strong momentum and clear goals as you move forward.
Of course, what is also means, is that the work of a job hunter is never done.